Even though we are celebrating our "official" birthday this month (on 18 May 2012 our company Sunbird Aloes CC was registered), our story goes back much further than that. We thought you might enjoy the journey !
The Seventies and Eighties and Nineties
The aloe bug bit Leo Thamm, owner of Sunbird Aloes, seriously during his student years in the '70's. He started with the process of creating Aloe Hybrids by meticulously cross-pollinating individual flowers and recording it by colour coding the individual flower stem and transferring the written record to a computer data base. The three Aloe cultivars mentioned below are some of his earliest creations: Aloe 'Bushveld Beauty', Aloe 'Irinka', Aloe 'Koljander', all pollinated in the mid 1970's.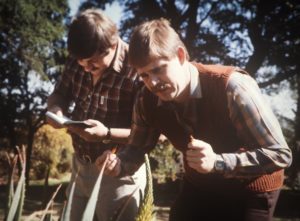 In the 1970's we joined a number of "Operation Wildflower" excursions (an organisation created to rescue plants when they were going to be destroyed by the building of a dam or road). This allowed Leo and his buddies including Andy de Wet, of De Wet plant breeders, to widen the base of parent plants available for hybridisation.
Between 1975 and 1999, out of thousands of attempted hybrids, the total number of selected cultivars grew to 62. The big job to follow then was to propagate these selected hybrids in order to create a stock of identical plants. All propagation was done by hand (no tissue culture in those days).
Year 2000 and beyond
Our 1st client invoices date back to 2001. In those days the hybrids were not even named yet. We called ourselves "Aloes for Africa".
In 2005 our 1st plants were imported by Mike Dent, the owner of the successful Aloe-Aloe Horticulture company into Australia.
In November 2009 the Sunbirdaloes.co.za domain name was registered and our website went live early in 2010. This has been an extremely valuable asset for us.
On 18 May 2012 the Sunbird Aloes CC was registered.
Our network of local growers, mainly Ndundulu Aloes in KZN and Rooiklip Nursery in the Western Cape have made our aloes available where it would have been difficult for us to supply. We also value our relationship with 2 local retail nurseries, Witkoppen Wildflower nursery and Gariep Plants, where the public can place orders for Sunbird Aloes. We also courier smaller plants to any destination in South Africa. We are also very excited for another two growers to come onstream in the next 2 years. They are both propagating our plants as we speak !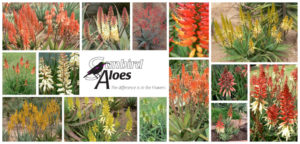 From the humble beginnings in 2001 to where we are now, with around 170 Cultivars (some still awaiting publication/release), we could not have done this without you, our loyal Sunbird Aloes client base.
We thank you and salute you !