Very large, stemmed green plant with tall, striking, branched inflorescences. The racemes are long and big. They are bright red until the large flowers open white, thus creating an eye-catching bi-colour effect. Black, protruding filaments add to the raceme's unique appearance. The racemes are never fully upright. Flower time is from midwinter to spring.
The plant does not easily split its rosette and stem shoots are very rare. Aloe 'Eiffel' is best planted in the open rockery where it can develop its stunning features. It is an extremely good companion to Aloe 'Erik the Red'.
Best recorded flowering performance from a single rosette: 2 inflorescences with a total of 10 racemes.
• Plant with lots of compost in the soil
• Likes plenty of sun
• Rosette ± 140cm in diameter and ± 100cm high
• Protect from severe frost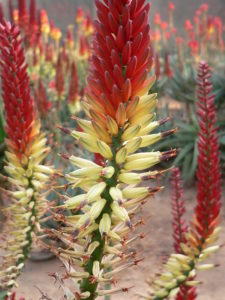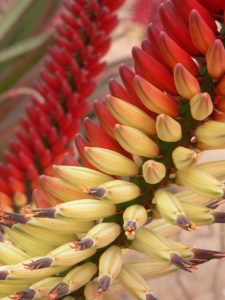 Updated 11 March 2022