One of the most striking of the feature plants, this large, stemmed aloe hybrid rewards the grower with one of the most beautiful flower displays imagineable. The branched inflorescences carry long racemes of large, deep red flowers. The raceme is curved upward but the flowers are carried beyond the bend, creating a stunning red display. The colour of the individual flower is also remarkable. The red perianth (petals) end in a white lipped aperture from which the purplish black filaments protrude.
The plant has large, dark green leaves with medium sized spines. Although it hardly ever produces stem shoots, the rosette tends to split at maturity, thus creating a bigger platform for flower production.
This large aloe cultivar deserves pride of place in any rockery. It is not suitable for container planting.
• Plant with lots of compost in the soil
• Likes plenty of sun
• Rosette ± 130cm in diameter and ± 85cm high
• Protect from severe frost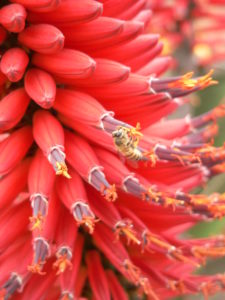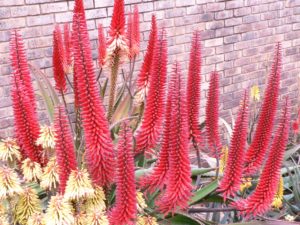 Updated 16 March 2022